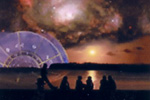 Opportunities Report

Will you be ready when opportunity knocks? One of the
most common questions asked of professional astrologers concerns
vocation: What career should I pursue? Why am I not happy in
my present job? Why do I feel like I am missing out in life? All of
these questions are addressed in the Opportunities Report. Throughout the report, progressions and transits show the current influences on
career and personal expression.
What do I want to be when I grow up? This childhood question is now being considered by people from fifteen to fifty. The number of jobs available is not the main problem. The difficulties come from two areas: first, the vocational possibilities are rapidly changing. Second, many of us are considering our second or even third career because our original choice is becoming obsolete, or makes demands upon us that we could not have anticipated, or is losing prestige, or no longer pays well enough, or has become so mechanized as to bore us to automated tears. In short, we want more.
This report describes your vocational aptitudes from the astrological perspective so that they can be matched in the career marketplace. While the jobs themselves are ever-changing, personality is founded on a solid base upon which to pivot. Self-understanding can supply the physical, emotional, mental and spiritual clues to your best line of work. Then you can determine how to apply your strongest capabilities to the career field you find most attractive.
Sections of the report cover:
Your Ascendant - basic indicator of how you interact with the world
Your creative touch and its role in career

How you work best - your psychological strengths and your personal interactive style

Saturn and Mars as vocational indicators - where hard work will have the best results, and how you tend to apply your energy to that work

Career success - how your reputation is built through work

The best work environment for you - the place and the people
Financial considerations and self esteem

Career or mission - a look at heliocentric indicators of your higher purpose

Opportunities produces a 25 to 30 page report. It includes all the details in a handy, organized format.